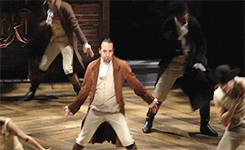 Hello everyone and welcome back to my blog! Today I'm back with an exciting TBR for you. Louise from Foxes and Fairy Tales is doing a Hamilton Readathon. And as I love that musical I absolutely have to participate in this readathon. It will run from March 1st until the end of the month. So 30 days and a lot of great prompts! If this interests you please check out the announcement post. (Linked above)
And now without further ado let's start with the TBR.
Alexander Hamilton – a book with a name in the title

The Reynolds Pamphlet – a short book

Who tells your Story – marginalised author

Take a break – Finish a book in a day

The World was wide enough – foreign language

The Election of 1800 – a book set in the past

The Schuyler Sisters – a book that's part of a trilogy

Helpless – romance book

Your Obedient Servant – multiple POV

Washington on your Side – devious plot/cunning scheme

Satisfied – last book in a series

Burn – fire related title/cover

My Shot – Standalone

Wait for it – a book you've been waiting for

What'd I miss? – a book that's 5+years old
And these are all the books that I want to read in March for that Readathon. What about you? Are you going to participate in the #hamilthon readathon? Please tell me in the comments below!
---
The covers all come from their respective Goodreads page!