Hello, everyone!
Today I share with you my thoughts about the third book in the A Court of Thorns and Roses series by Sarah J.Maas.
Warning: SPOILERS!!!!
Goodreads Summary: 

Looming war threatens all Feyre holds dear in the third volume of the #1 New York Times bestselling A Court of Thorns and Roses series.

Feyre has returned to the Spring Court, determined to gather information on Tamlin's manoeuvrings and the invading king threatening to bring Prythian to its knees. But to do so she must play a deadly game of deceit – and one slip may spell doom not only for Feyre, but for her world as well.

As war bears down upon them all, Feyre must decide who to trust amongst the dazzling and lethal High Lords – and hunt for allies in unexpected places.

In this thrilling third book in the #1 New York Times bestselling series from Sarah J. Maas, the earth will be painted red as mighty armies grapple for power over the one thing that could destroy them all.
Author – Sarah J.Maas
Title – A Court of Wings and Ruin
Publisher – Bloomsbury Children's Books
Publication date – May 2nd, 2017
Pages – 699
Special features – Map
Price – $6.11
ISBN – 9781408857908
Series –  A court of Thorns and Roses #3
Version – Paperback
Genre – Fantasy/Romance/New-Adult
Trigger Warning – Mature
Language – English
My Rating – 📖📖📖📖
# What I liked
The first thing I liked was that the characters weren't perfect. All of them had their flaws and I'm glad that Maas didn't write Mary Sues or Gary Stues. I hate characters that can do anything and have no problems at all in their life. Because that's not real and I'm honestly pleased that Sarah J. Maas didn't do that with her cast of characters. And as for the first two books, the world building finds its place again in the What I liked section. Rhysands Squad is really goals. All of them are so brilliant and hilarious. I couldn't get enough of these passages. I loved Nesta's character so much in ACOWAR especially her bickering with Cassian. I want more of them!!! Lucien is forgiven for his mistakes (I still hate Tamlin though) and I felt so bad for Elain during this book.
I frickin loved the pairings and I'm so glad that nobody died for real. Or at least that those who died got resurrected. I don't know what I'd do if one of my faves would die. I want a happy ending for once in at least one of my favourite series! So please don't kill anyone! I also liked that Maas told us more about Morrigan's past. I really embraced her homosexuality.
# What I disliked
Absolutely nothing!
# Favourite Character
Nesta
Lucien
Cassian
Rhysand
Morrigan


---
Overall I really enjoyed reading this book even though ACOMAF was 100% the best book in this series. For now! I'm so excited to get my hands on the Novella when it comes out later this year. And I hope that we're going to get more books in the future about Prythian. And maybe with other main characters. As I think that Feyre's and Rhys's story is perfect right now. I recommend it if you don't mind the frequent sex scenes. This could possibly be a problem for some people but if you don't mind such scenes you should really read the third book in this series.
Amazon – Audible – Barnes and Noble – Book Depository*
What did you think about ACOWAR? Have you read it or do you plan to read it? Please let me know in the comments below!
---
Other books in the series: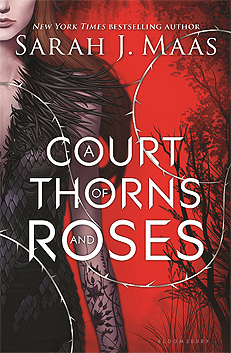 You can find my review of ACOTAR here.
You can find my review of ACOMAF here.
---
* This is an affiliate link. If you purchase A court of Wings and Ruin through this link I'll get a small commission. 
All the pictures come from their respective Goodreads page.