Hello, everyone! This Wednesday I'm back with a T5W post. This week's topic is: Books I've read because of the Booktube Community!
---
#1 – Fangirl by Rainbow Rowell
I heard a lot about it on Booktube and in the Blogging Community. So I decided to pick
this book up because a) the cover (that colour is amazing) and b) aren't we all fangirl/boys? And honestly, I loved it. The ending was a bit strange because I was like WTF where's the rest of the book… but nevertheless, I enjoyed reading this one.
#2 – A Court of Thorns and Roses by Sarah J.Maas
This book was super hyped when it first came out and I can
honestly understand why. I bloody (excuse me for the bad language but I swear all the time, I can't help it!) loved and devoured that series. And I'm glad that I started reading this so late because I didn't have to wait an eternity for the next book to come out. And Gosh I'm so excited for the Novella to come out next year!!
#3 – The Gentleman's Guide to Vice and Virtue by Mackenzi Lee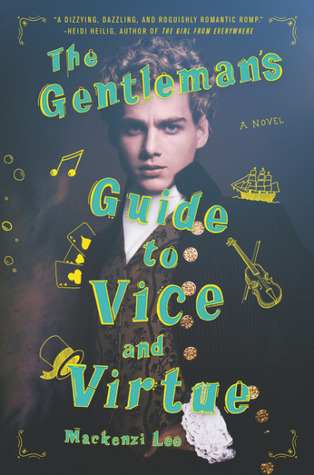 Another great book that I enjoyed reading. I loved the journey of Felicity, Percy and Monty. If you want you can find my review here.
#4 – Illuminae by Amie Kaufman and Jay Kristoff
I have the feeling that I'm always talking about the same books in my blog posts but hey I can't help it if I liked these books a lot. Thanks to all the booktubers and bloggers for recommending these. I probably wouldn't have picked half of them up on my own. So thank you! And now back to Illuminae. I only heard great things about it and at first, I was sceptical about it. But when I read it I just had to love it!
#5 – Song of Princes Janell Rhiannon
Another book that I discovered, thanks to Benjamin of Tomes. (one of my favourite booktubers btw) I really enjoyed reading this one and I can't wait to get my hands on the sequel which is out since May of this year!
---
And that was everything for this blog post. What books did you discover through Booktube/blogging? Let me know in the comments below!