Goodreads Summary:
Henry "Monty" Montague was born and bred to be a gentleman, but he was never one to be tamed. The finest boarding schools in England and the constant disapproval of his father haven't been able to curb any of his roguish passions—not for gambling halls, late nights spent with a bottle of spirits, or waking up in the arms of women or men.

But as Monty embarks on his Grand Tour of Europe, his quest for a life filled with pleasure and vice is in danger of coming to an end. Not only does his father expect him to take over the family's estate upon his return, but Monty is also nursing an impossible crush on his best friend and traveling companion, Percy.

Still it isn't in Monty's nature to give up. Even with his younger sister, Felicity, in tow, he vows to make this yearlong escapade one last hedonistic hurrah and flirt with Percy from Paris to Rome. But when one of Monty's reckless decisions turns their trip abroad into a harrowing manhunt that spans across Europe, it calls into question everything he knows, including his relationship with the boy he adores.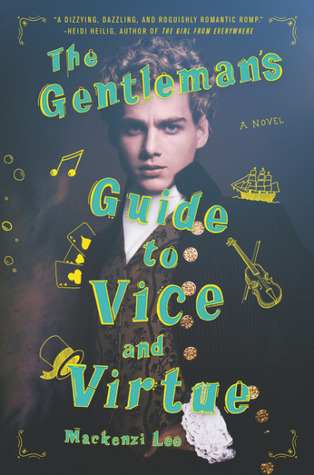 About the book:
Author – Mackenzi Lee
Title – The Gentleman's Guide to Vice and Virtue
Publisher – Katherine Tegen Books
Publication date – June 27th, 2017
Pages – 513
Special features – Map
Price – 11,26 € on Book Depository*
ISBN – 9780062382801
Series – Kind of
Version – Hardback
Genre – Historical Fiction/YA/GLBT
Trigger Warning – Racism/Homophobia/Illness
Language – English
My Rating – 📖📖📖📖📖
---
Henry "Monty" Montague has to take over his fathers business. But before doing so he wants to go on an adventure. He wants to travel with his best friend aka crush Percy for a whole year. During this trip both 18-year old boys need to stop to send Felicity Montague, Montys younger sister, to school. After their little trip Percy has to go to Law school. So of course both boys want to have fun on the Grand Tour. What they don't know however is that Henrys father is sending them away with a sort of a babysitter. And as Monty is being himself the three teenagers will soon be in a lot of trouble and the real adventure begins!
I absolutely fricking adored this story and the MCs were so adorable! Felicity is probably my favourite, being the sassy young girl she is. Monty was freaking adorable and I don't even speak about Percy because Percy is Percy and you have to like him. You just do. He's such a nice young fellow. In this novel we hear a lot about racism and homophobia of the 18th century. The romance in Gentleman's Guide is so cute and if you're like me you're going to squeal like a little girl at some parts. And I'm not a big fan of romance but this was so so cute! I felt like a fangirl while reading this book. I flew through this book as it is a fast-paced read. I kinda have the feeling, that I'm so lucky recently for having read books that are fast-paced. I've probably mentioned it a few times in my recent posts but I like to mention it again: I love these books you get to read them in a few hours, two days,… Most of the time they come without complications and I like that!
The ending of this book made me so happy! My only thought was: in your face! (If you've read the book you know what I mean) It was simply perfect! And now I want to know more about Felicity. Can't wait for Lee to start writing that book.
There is nothing more to tell about this book. It was amazing! And I absolutely recommend it to you guys!
And as I'm in love with this quote of the book I'm going to end my post with it: "Abso-bloody-lutely fantastic!"
---
Have you read The Gentleman's Guide to Vice and Virtue by Makenzi Lee? What did you think? Let me know in the comment below! 🙂
---
*this is an affiliate link. If you make a purchase by using it I will get a small commission.