Hello!
Today's post is going to be a review about my last read paperback: Illuminae.
---
Goodreads Summary:
This morning, Kady thought breaking up with Ezra was the hardest thing she'd have to do.

This afternoon, her planet was invaded.

The year is 2575, and two rival megacorporations are at war over a planet that's little more than an ice-covered speck at the edge of the universe. Too bad nobody thought to warn the people living on it. With enemy fire raining down on them, Kady and Ezra—who are barely even talking to each other—are forced to fight their way onto an evacuating fleet, with an enemy warship in hot pursuit.

But their problems are just getting started. A deadly plague has broken out and is mutating, with terrifying results; the fleet's AI, which should be protecting them, may actually be their enemy; and nobody in charge will say what's really going on. As Kady hacks into a tangled web of data to find the truth, it's clear only one person can help her bring it all to light: the ex-boyfriend she swore she'd never speak to again.

Told through a fascinating dossier of hacked documents—including emails, schematics, military files, IMs, medical reports, interviews, and more—Illuminae is the first book in a heart-stopping, high-octane trilogy about lives interrupted, the price of truth, and the courage of everyday heroes.
About the book:
Authors – Amie Kaufman & Jay Kristoff
Title – Illuminae, The Illuminae Files _01
Publisher – One World Publication
Publication date – October 20th, 2015
Pages – 599
Special features – The whole book is a special feature
Price – 8,56 € (You can buy the PB on Book Depository)* & 13,62 € (You can buy the HB on Book Depository) *
ISBN – 9781780748375
Series – Yes, the 1st one in a trilogy
Version – Paperback
Genre – Sci-Fi/YA
Trigger Warning – Death/War/Loss/
Language – English
My Rating – 📖📖📖📖📖
---
We are in the year 2575 and Kady lives a pretty normal teenage life in her hometown Kerenza. Until she decides to end her relationship with Ezra and then *boom* a war is being started between two corporations. As per usual, the poor citizens are the victims of this dispute. Kady and Ezra both make it out alive but are separated into different fleets. But that's not all the ships are being followed by the enemy.  And to make things worse a disease is spreading in the third evacuating fleet. I don't have to mention that all hell is breaking loose at that moment. Nothing is working as planned. Soon both teenagers are in contact again because they may be the only ones that could do something to make their situation better. Needless to say that no adult is taking them seriously and that they are going to be on their own.
I fricking loved this book! I think that I loved it even more than Sleeping Giants. The files, the reports, the emails, the map, the illustrations and so on were simply awesome. It's difficult to explain when you can't show the pages to somebody else. But it's simply an amazing reading experience and such a fast paced read because of the dossier. I really like those sci-fi novels that are not written like other books we know but that they are told through documents. I think that it is the best way to write a sci-fi novel. And you learn so much about the world in the story without having to read a whole paragraph of description. I don't like romance books or books where the romance is like overwhelming. When you read the description you have the feeling that this novel will only (or like 80%) talk about Kady x Ezra. Believe me, it is definitely not the case!
I seriously wanted to cuddle all of the characters, even the mean Artificial Intelligence. You just can't hate people that fight for their survival. You just can't. Or at least I can't. And the AI was simply adorable in some parts of the book. (Yep I'm strange) So I don't really have a favourite character I liked them all and I can't/won't choose.
I don't even know how to explain to you why I adored this beauty. You have to read it for yourself. Honestly, if you did not pick it up until now, well what are you waiting for? Pick it up! You won't be disappointed. This book was holy moly AMAZING! I want the second book now on my shelf!
---
Other books in this trilogy: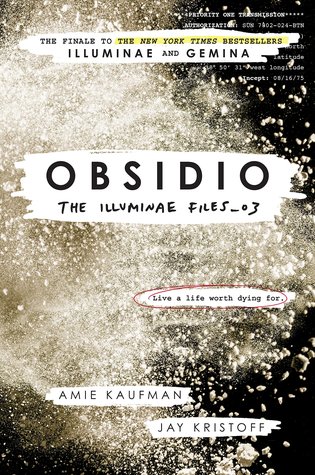 ---
What did you think of Illuminae? Let me know in the comments below! 🙂
*If you use my affiliate link to buy a copy of this book I will get a small commission. Thank you!