Hello, everyone! Today I'm going to talk about a thriller. A genre I haven't read for a while.
---
Goodreads Summary:
On a warm summer morning in North Carthage, Missouri, it is Nick and Amy Dunne's fifth wedding anniversary. Presents are being wrapped and reservations are being made when Nick's clever and beautiful wife disappears. Husband-of-the-Year Nick isn't doing himself any favors with cringe-worthy daydreams about the slope and shape of his wife's head, but passages from Amy's diary reveal the alpha-girl perfectionist could have put anyone dangerously on edge. Under mounting pressure from the police and the media—as well as Amy's fiercely doting parents—the town golden boy parades an endless series of lies, deceits, and inappropriate behavior. Nick is oddly evasive, and he's definitely bitter—but is he really a killer?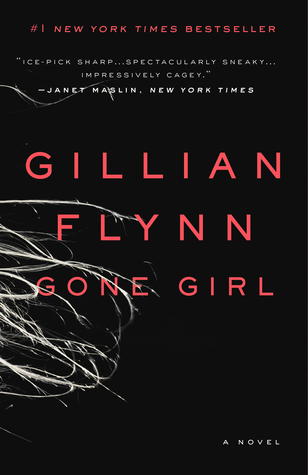 About the book:
Author – Gillian Flynn
Title – Gone Girl
Publisher – Crown (Mass Market Paperback)
Publication date – May 24th, 2012 – May 24th, 2012
Pages – 555
Special Features – none
Price – 8,76 € (Book Depository)
ISBN – 9780385347778
Series – /
Version – Paperback
Genre – Mystery/Crime/Thriller
Trigger Warning – Murder/Manipulation/Self-Harm/Violence/Swearing
Language – English
My Rating – 📖📖 1/2
---
Unfortunately I didn't like this book as much as I wanted to. And this kind of disappoints me because I love a good Thriller book but this was not what I was hoping for.
This book talks about Nick and Amy Dunne. Both have been writers but they lost their job. At the beginning of Gone Girl it is their fifth year anniversary but suddenly Amy disappears in a mysterious way. Who did it? Everyone is focused on the husband.Was it Nick, the not so perfect husband, who abducted his wife? Or worse who killed her?
I honestly did not like this book. I despised every character. Maybe not everyone. Go (Nick's sister) seemed to be the only normal living person in this whole novel. What I didn't like was the whiny character of Nick, the whole investigation about the missing wife. I also did not like how the story ended. For those that read the book and loved it, what did you think of the ending because I was like: What the Hell is going on? It was so disappointing.
What I did like, however, was the second part of the book. The WTF moment. I was not prepared for it. I had problems to get into this mystery novel and then came part 2 and *boom* I couldn't stop reading it until part 3. The second part was fast-paced there were no moments where I just wanted to quit. All the other parts were boring, it was always the same thing happening and poor Nick *sarcasm*.
I am glad that I'm finally over with this book. I will, however, re-read this one in the future. Maybe I just did not like it because I had a lot of stress in the past few weeks. I've also read mostly Sci-Fi and Fantasy in the past months so I'll possibly have to wait until I'm in a Thriller mood again. Perhaps I will like Gone Girl a bit better.
Again, I did not like it but that doesn't mean that you won't like this novel. This is only my opinion.
You can buy this book here *
---
What did you think of Gone Girl? Please let me know in the comments below!
---
-* this is my affiliate link. If you use my link to buy your copy on TBD I will get a small commission