Wayfarer (Alexandra Bracken) – Review
Hello, everyone!
Today I'm going to share my thoughts on Wayfarer with you.
---
Goodreads Summary:
All Etta Spencer wanted was to make her violin debut when she was thrust into a treacherous world where the struggle for power could alter history. After losing the one thing that would have allowed her to protect the Timeline, and the one person worth fighting for, Etta awakens alone in an unknown place and time, exposed to the threat of the two groups who would rather see her dead than succeed. When help arrives, it comes from the last person Etta ever expected—Julian Ironwood, the Grand Master's heir who has long been presumed dead, and whose dangerous alliance with a man from Etta's past could put them both at risk.

Meanwhile, Nicholas and Sophia are racing through time in order to locate Etta and the missing astrolabe with Ironwood travelers hot on their trail. They cross paths with a mercenary-for-hire, a cheeky girl named Li Min who quickly develops a flirtation with Sophia. But as the three of them attempt to evade their pursuers, Nicholas soon realizes that one of his companions may have ulterior motives.

As Etta and Nicholas fight to make their way back to one another, from Imperial Russia to the Vatican catacombs, time is rapidly shifting and changing into something unrecognizable… and might just run out on both of them.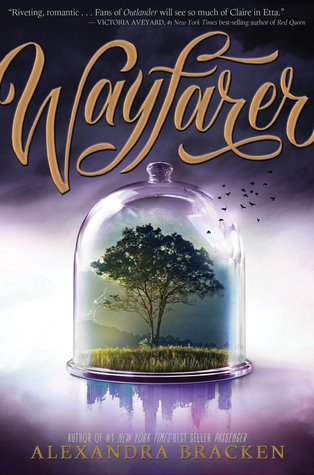 About the book:
Author – Alexandra Bracken
Title – Wayfarer
Publisher – Quercus Children's Books
Publication date – January 12th, 2017 (first published January 3rd, 2017)
Pages – 534
Special features – none
Price – 8,04 € (Book Depository)
ISBN – 9781786540027
Series – Yes, the second installment in the Passenger Duology
Version – Paperback
Genre – Fantasy/YA/Science Fiction/Historical
Trigger Warning – /
Language – English
My Rating – 📖📖 1/2
---
This book continues where Passenger ended. Etta and Nicholas are separated and they try to get back to each other. Etta also tries to find the astrolable in order to destroy it.  I really did not like this book. As for the first one, I had my difficulties to get into the story. I wanted to love the book or at least to like it because the time travelling theme is something I'm fangirling over. Alas, here it wasn't the case. The story had it's potential but it wasn't enough. This book could have been so much smaller. Again like the first one. There have been so many wasted chapters that could just have been deleted because they don't give any new clues or information to the storyline. And worst of all I can't even remember the ending (info: I finished this book July 13th). That never happened before!
I'm really disappointed by this one. And I don't even know why because I already didn't like the first one that much. But still, I thought that if everyone liked it then I should too. It's definitely not working like that. I'm not saying that this book was bad. It's just me that didn't like it. The last few hundred pages were very interesting and I liked those but it's not enough to love the whole book. I didn't enjoy my reading time and I nearly fell in a reading slump.
The thing that stressed me the most in the Passenger Duology was that there were way too many descriptions in both of these books. For Passenger I thought that it was normal but the exact same thing happened in the sequel.  It was just too long! I couldn't attach myself to the characters. The MC's were annoying. The only likeable character was Henry Hemlock. I wasn't feeling the romance as much as I did on Passenger. Would I have enjoyed this one if there were lesser descriptions? Maybe.
Brackens' writing style is probably not my thing.
This is my first under three-star rating. I don't even know how to write bad reviews because I kind of feel bad by writing them. So this is going to be a shorter blog post as I don't know what to say more about Wayfarer.
What did you think of it?
---
And I want to say thank you for nearly 50 subscribers! (48 to be exact) You guys are amazing! 😀 ❤
---
Books in this Duology: