Simon vs. the Homo Sapiens Agenda (Becky Albertalli) – Review
Hello, everyone! Today I'm going to talk about Simon vs. One of my favourite books this month. I read it in not even 24 hours and I have to say that this does not happen often. Like never at all.
____________________________________________________________________________________
Goodreads Summary:
Sixteen-year-old and not-so-openly gay Simon Spier prefers to save his drama for the school musical. But when an email falls into the wrong hands, his secret is at risk of being thrust into the spotlight. Now Simon is actually being blackmailed: if he doesn't play wingman for class clown Martin, his sexual identity will become everyone's business. Worse, the privacy of Blue, the pen name of the boy he's been emailing, will be compromised.

With some messy dynamics emerging in his once tight-knit group of friends, and his email correspondence with Blue growing more flirtatious every day, Simon's junior year has suddenly gotten all kinds of complicated. Now, change-averse Simon has to find a way to step out of his comfort zone before he's pushed out—without alienating his friends, compromising himself, or fumbling a shot at happiness with the most confusing, adorable guy he's never met.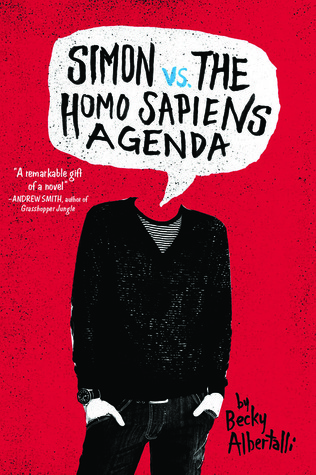 About the book:
Author – Becky Albertalli
Title – SImon vs. The Homo Sapiens Agenda
Publisher – Penguin
Publication date – April 7th 2015
Pages – 303
Special Features – none
Price – 8,05 € (Book Depository)
Series – No
Version – Paperback
Genre – YA/Contempory/LGTB/Romance
Trigger Warning – Bullying/Blackmailing
Language – English
My Rating – 📖📖📖📖
________________________________________
I always have my problems reading books in the romance / contemporary genre. I simply don't like them. In general! Because with this one it is not the case. I liked it a lot and I can't even understand why I ONLY gave it a 4-star rating on Goodreads. But I suppose that I had my reasons.
I only pick up books in this genre when the cover, the title or the summary make me want to read the novel. However for this book neither really gave me the want to read feels. Well, maybe the summary did it's work a little bit. I only picked up this book because I heard so many good things about this book by Becky Albertalli, not only on Goodreads but also on Booktube and on book blogger blogs. And boy am I happy that I read this one. If I'm correct it is one of my first books with a gay main character. Honestly, it shocks me that the books that I'm reading only have straight characters. I never realised this until now.
What I liked most about this book was that it could have been a real situation. Someone being gay and knowing about his or her sexuality but the person doesn't know how to tell her or his family about it. How to do the "coming-out" thing?  I'm straight so I don't know the problems that people who have another sexuality can encounter. The coming-out thing is not always easy. Not everyone has parents or friends that accept you as you are. We are still living in a society where people are not always open-minded and this makes me angry.
Simon vs. is being narrated by Simon our 16-year-old protagonist. He is being blackmailed by a student after the blackmailer finds Simons e-mails. In these e-mails, Simon is writing with another gay fellow and the secret is out. Now Simon Spiers fear is that his class mate is sharing this secret with everybody. Will his blackmailer share the secret or not? This is a question which we have on our mind for some time and we fear the answer. During the enjoyable read, we start to get attached to sixteen-year-old Simon and we kind of start to hate the blackmailer, Martin. 
This book was funny and sad at the same time but it was also a fast read. I found it great that we could read what Simon was thinking. Especially his fears about his sexuality. Will his friends and family accept it? Will he be bullied in school by the jocks? Like I mentioned earlier it is interesting to read a book in an LGTB's character point of view. Did I already say that I love the characters in this book they are so attaching. Especially Simons sisters. 
However there is one thing that I didn't like: The book didn't last long enough.
I recommend this book to everyone who wants to read a good book on the weekend.   
Becky Albertalli I'm definitely going to check out your other works!
__________________________________________________________________________________
Have you read Simon vs the Homo Sapiens Agenda? What did you think about it? Please let me know in the comments down below.