Crooked Kingdom (Leigh Bardugo) – Review
Hello, everyone! Today I'm going to give you my opinion of Crooked Kingdom and I do hope that I'm not going to mess up my very first review
 Summary from Goodreads:
Kaz Brekker and his crew have just pulled off the most daring heist imaginable.
But instead of divvying up a fat reward, they're fighting for their lives.
Double-crossed and badly weakened, they're low on resources, allies and hope.
While a war rages on the city's streets, the team's fragile loyalties are stretched to breaking point.
Kaz and his crew will have to make sure they're on the winning side… no matter what the cost.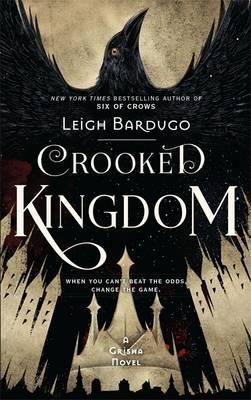 About the book:
Author – Leigh Bardugo
Title – Crooked Kingdom
Publisher – Indigo (Hachette)
Publication date – September 27th, 2016
Pages – 536
Special features – map of Ketterdam
Price – 11,20 € (Book Depository)  
ISBN – 9781780622309
Series – Sequel to Six of Crows
Version – Paperback 
Genre – Fantasy/Young Adult
Trigger warning – murder, violence, death
My rating – 📖📖📖📖📖
 There is going to be a spoiler of Six of Crows in this review
Where to start? My heart was definitely broken at the end of this book. How could you do this to me Leigh Bardugo? I don't know if it was because of the last few chapter or because Crooked Kingdom was the final book in the Six of Crows Duology.
I have to admit something here. I didn't think that Crooked Kingdom could be better than Six of Crows. Six of Crows has been one of my favourite fantasy books when I read it back in April. But hell, was I wrong. I would have read this book faster if my exams hadn't asked so much attention because literally, those short chapters killed me. Especially since every chapter is written in another character's point of view (just like the first book). I just couldn't put that book down, but eventually, I had to. Needless to say that this proud 536 pages long book had drawn me into its spell since chapter one.
I simply had to know what happened to one of my favourite character after her abduction in Six of Crows. Would Kaz and the other members of his crew save her or would she be on her own. There were so many questions wandering in my mind and I feared that they wouldn't all be answered. Again I was wrong.
What I loved the most about this book is that you learn so much more of the background story of the main characters: Kaz Brekker, Inej Ghafa, Jesper Fahey, Nina Zenik, Matthias Helvar and WylanVan Eck. Honestly, I like it when the author takes his/her time to explain the life of the characters. It makes me feel like I am a part of the world because I get to know the person better. During those 500+ pages, I never wanted the book to end. And when I don't want an ending of a book this means that I fricking love it. Another thing I liked is that none of the characters featured in this book is perfect. They all have their flaws and it makes the book more realistic. I don't know if I made my point clear. Books, where the main characters are Mary Sues or Gary Stues, are books that I generally do not like.
I'd say that the theme in this book is definitely friendship. All of the main characters care for each other and won't leave the other in a tricky situation. They are helping each other out as best as they can. You can sense that the whole crew sees every member as their own family. 
As for those who want to know if you have to read the Grisha Trilogy that precedes the Six of Crows Duology. No, you don't have to. I did not read the Grisha Trilogy and I had no problem to read this Duology. You can easily follow without getting lost. Nonetheless Leigh Bardugo I want more. I need more! Even though the ending was perfect.
The last thing I have to say is "No mourners no funerals".
Have you read Six of Crows and Crooked Kingdom? Did you like the Duology?
Books in the Six of Crows Duology: