©phanniethegingerbookworm
Hello everyone!
Today I'm going to talk about my Book Haul. Yep I couldn't resist. The temptation has been to big and I left my money at my local bookstore. Which isn't a bad thing because I love buying and reading those books afterwards.
As a big Potterhead I had to buy something for the 20th Anniversary of the release of the first Harry Potter book. At the beginning I wanted to buy the Hufflepuff edition of the Philosophers' Stone but alas my local store didn't have it anymore. So my eyes fell on this beautiful Quidditch Through the Ages edition by Kennilworthy Whisp (J.K. Rowling). As I've never read the Hogwarts Library books, I thought that it would be great to add this one to my collection of the "school books". (I already own Fantastic Beasts and Where to find them). For those of you who don't know what this book is about, it explains the history of Quidditch. Quidditch is a sport that is being practised in the Wizarding World. In this book we also learn about all the different Quidditch Teams.
You can find the book on Goodreads
 The second book I bought is one that I don't know much about but that was on my top to buy list. I do know however, that this book is about a sixteen year old boy – named Simon – who is gay. Although he doesn't admit it. And due to an email where his secret is written down, he gets blackmailed.
This is a book where I couldn't wait to get my hands on it even if I'm a little bit late to the party. This book came out like 2 years ago and I only buy it now. So I definitely want to read it as soon as possible. On the other hand there are some advantages on reading super hyped books later. You are not that influenced by the opinions of others while reading it. At least this is my case.
You can find the book on Goodreads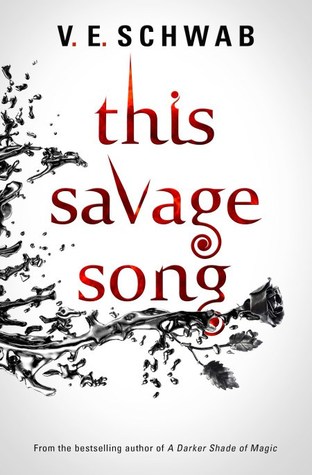 Moving on to the last book of my haul. This Savage Song by V.E.Schwab. Again I don't know much about it, only that it is loved by the reader family. This is my second book of V.E.Schwab (I own A darker Shade of Magic). Regrettably I haven't read any of her books. But I plan on reading them as soon as possible. Due to university my schedule was rather full but now thanks to the summer holidays I can read at my normal pace. So my TBR is going to shrink a lot. Along with that I am going to read the two books I own by V.E.Schwab first next to Simon vs. the Homo Sapiens Agenda because I only heard good things about them. Furthermore I hate being late to the party, so yeah that concludes that part.
Now let's go back to this book. I don't think that I mentioned how beautiful this cover is. I mean look at it. I don't even have words to tell you how much I love it! I strongly prefer it over the US edition. From what I understand this book talks about a city at war. A city overrun by monsters where our two protagonists have to choose between being evil or being a hero. The genre of the book is Urban Fantasy. I'm looking forward to read this book and I'm letting you know if I loved it as much as everyone else (fingers crossed because I want to love it!).
You can find the book on Goodreads
I'd like to have your opinions on those books featured in my mini haul. Have you read one of the three books? Did you like them? Or are you also late to the party and plan to read them soon? Let me know in the comments below!
If you enjoyed this post feel free to subscribe. Thank you!
All the book covers that you can see in this post come from their respective Goodreads page.